Welcome to Liverpool Spears Sports Club
During its first year in 2019 Liverpool Spears Sports Club currently has over 100 registered players involved in teams from Grade 5 through to the Grade 16 in the Southern Districts Soccer Football Association. We are a non-profitable organisation catering for the youth in the Liverpool area. At present, we have over 20 volunteers including coaches, team managers and parents. 
Join us to be the Part of our journey to Success.
Winter Season 2022 – Early Bird Discount
Announcement:

2022 Winter Season Registration begins 10 January 2022
Registration for Winter Competition Open
Thursdays 6:30pm – 7:30pm at our Club House. Hurry as places are limited.
About Liverpool Spears Sports
In 2018 a group of dedicated Muslims came together with the vision of establishing a sports club which caters for the youth in the Liverpool area. After a large quantity of hard work and effort which was put into forming the sports club, which also resulted in extensive research, a name for the club was agreed upon. Liverpool Spears Sports Club was formed and registered as a non-profitable organisation.
At the passage of time, Liverpool Spears Sports Club is widening it's area and encouraging more youth to become active in sports and social well being. Our latest milestone is the establishment of the First Muslim Ladies U16 team in the Southern District.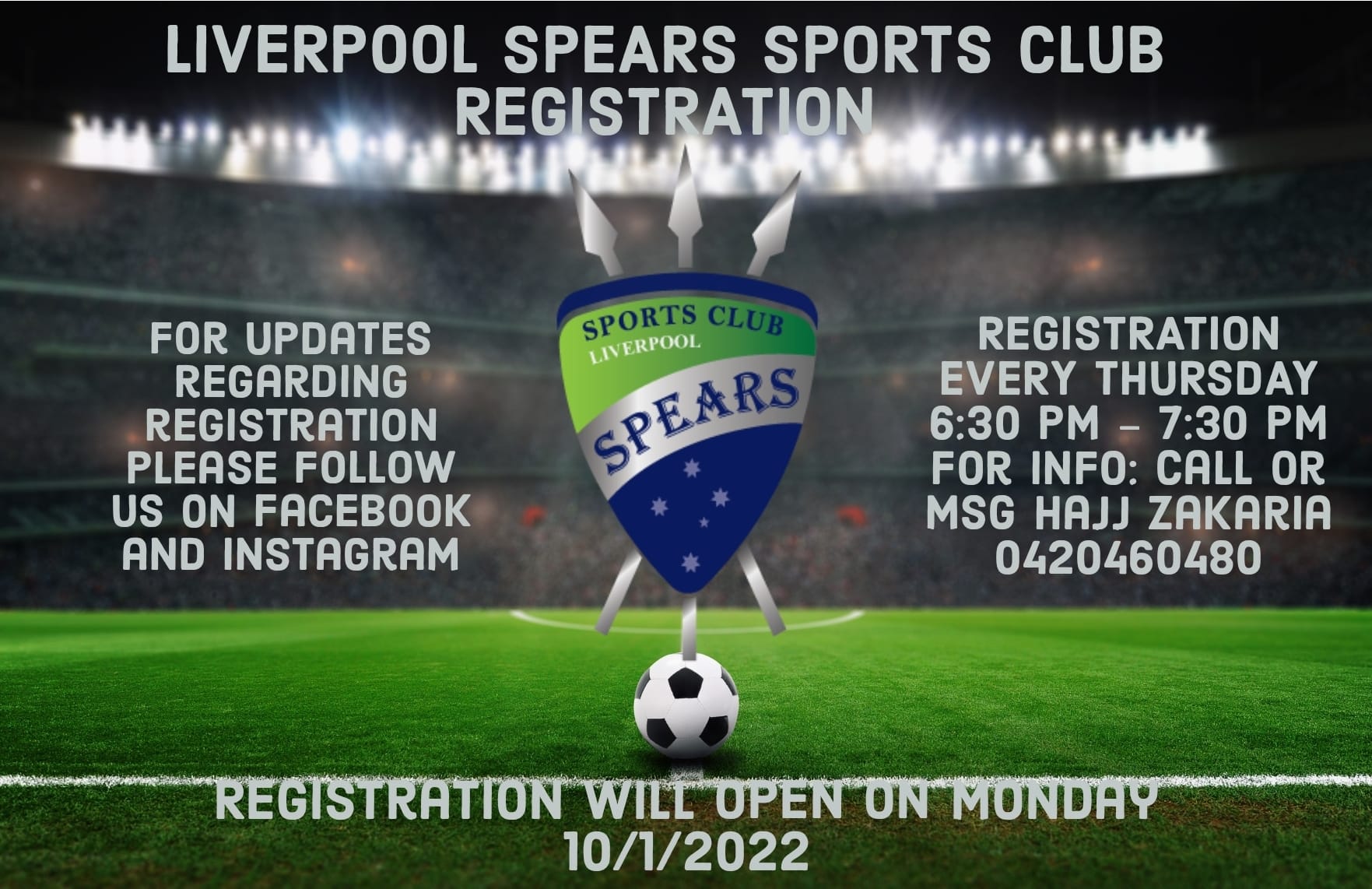 Our Mission
Our mission is to put Muslim principles into practice through programs that build a healthy spirit, mind and body for all.
Our Club Is Our Family
We know the power of people working together toward a common goal. We believe that long-term success for our club depends on keeping our members involved, instilling pride and treating them like family. Our goal is to create an atmosphere of member care and mutual respect. Our Philosphy is "Our Club, Our Family."
Winter Competition 
This program of the club is aimed to create awareness of the sports and encourage more youth towards the soccer. This program is for the youth and adults from 5 yrs of age. No matter if they are beginner or pro, they are welcomed in our club. This will be part of the SDSFA winter competition.
U5s- U11s Mixed Competition 
In this program, We Aims to train boys and girls at the basic level first and as they starts giving results, we changes the level of training. Our ultimate goal of this program is to train our team for future.
U12s – Opens Competition 
This is the most successful program of the club. Our teams of both boys and girls are achieving new heights in the field of soccer. They participate in the competitive winter season held by the SDSFA. 
Summer Competition
This program of the competition is focused on children and adults of all ages. Players will have the opportunity to form a team and enter the competition, players will be benefit greatly in this competition as they will be able to bond and stay fit. For more information, please contact the club.
Our Girls teams are the only teams in the town playing while following Muslim laws. They are breaking the stereotypes and showing the world that there is nothing the girls can't do while wearing the head scarfs. Either our u11 girls team or u16 girls team, both are performing great on the field and achieving new heights.